News
2 Nigerians arrested for attempting to kidnap a 5-year-old child
Two persons purported to be Nigerians have been arrested for allegedly attempting to kidnap a five-year-old child at Kasoa in the Central Region.
Reports indicate that the child was snatched by the hoodlums while standing by the road in the company of the mother.
The Friday incident happened when the suspects packed their Toyota Camry car under the pretense of purchasing an item.
According to the person who rescued the child, the incident happened when the mother of the victim took her eyes off the child for a second. He said the suspects hurriedly forced the child into their car.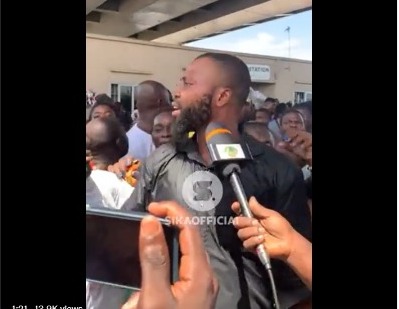 "I was over here buying food, when I heard the woman screaming, 'they've taken my child, they've taken my child'. So I hurriedly stopped the car after it made a U-turn," the eyewitness told the media.
According to him, the suspects pleaded with him to let them go, however, he insisted that he wanted the woman screaming to approach the car.
"When the woman got to the car, she said, they [the suspects] have taken her child away, and indeed the child was in the car," he explained.
The victim's rescuer said there were three occupants of the car. However, he was able to apprehend only two, thus, one of the suspects absconded.
Currently, residents of Kasoa are worried over the incident.
A number of them have thronged the police station where the suspects are being held.