It is exceedingly rare for players or managers who return to their previous clubs to enjoy past successes. Kosta Papic is no different. The Serbian tactician was appointed December 1, 2020, with the task of returning the club to past glories having been the last Phobian Coach to win the Ghana Premier League (GPL) title.
Papic started off the right way with a Home Draw and Win against Karela and Dreams FC respectively.
Two months down the line, Kosta Papic has left his role as Head Coach and here's our brief analysis and what caused this.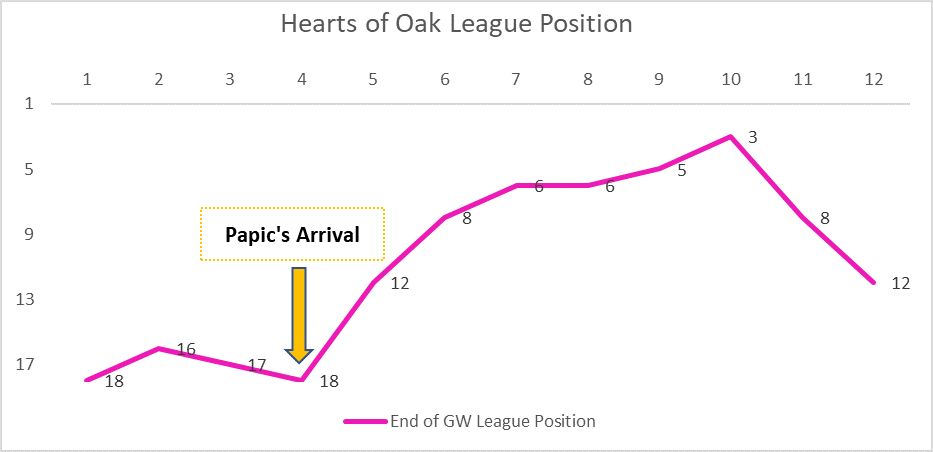 WINNING ONLY 4 & FAILING TO WIN IN LAST 4
Papic's arrival had a positive effect on the squad and their performances as Phobians move from the bottom of the log to a period high of 3rd position in game week 3.
An impressive run of 7 without a loss was commendable at the start of Papic's reign; wins over Dreams, Bechem, King Faisal and Eleven Wonders and draws against Karela, Elmina Sharks and Berekum Chelsea.
The early form guide and nature of performances indicated Hearts had turned the corner. In his last 4, Kosta Papic failed to win as he led Phobia to losses against Medeama and Great Olympics whilst drawing against Berekum Chelsea and Legon Cities.
The downward spiral since week 10 has only meant Hearts are only 3 points off the relegation zone.
FACING OFF AGAINST MANAGEMENT
As results began to go against the Phobians, Kosta Papic pushed the blame on this team whilst questioning the level of interference from his management team.
Furthermore, some board members made it known that Kosta Papic's appointment was done on their blind side and as such he never received the needed support throughout his tumultuous reign.
HEARTS STILL IN THE STONE AGE
Football has continued to undergo various changes with most teams leveraging on technology to ensure maximum output.
Kosta Papic found that Hearts of Oak have been in the same situation since he departed the club in June 2009.
The lack of infrastructure for visual post-match and pre-match analysis hampered Papic's approach to the job this time around.
FEEL GOOD EFFECT SHORT-LIVED
All good things have an end and that was the story of the feel-good factor Kosta Papic returned to the club upon his return.
Hearts of Oak had a bounce in their defensive and attacking approach when Papic took charge. The club chalked further successes with impressive results in various training matches.
The future, that once looked bleak under Edward Odoom, started to blossom again. However, the usual Ghanaian big club syndrome of, IN-HOUSE fighting, lack of technical and financial support coupled with management interference brought the feel-good factor to an end.
Kosta Papic had the opportunity to lift the club from the mediocrity they found themselves in with his exciting attacking approach to games.
However, for the lack of a vision for the club beyond his first 5 games, Kosta Papic perished.
The upcoming transfer window would have been a good opportunity for Papic to strengthen the club adequately whilst offloading dead weight to streamline his squad to press on for the second part of this season.
The rescheduled fixture against the resurgent Asante Kotoko SC could have been a good opportunity to show Papic had the tactical nous to lead Hearts of Oak for years however his departure only affords an opportunity for the local terrain to see Ibrahim Tanko or Maxwell Konadu lead the Phobians.
Source: citinewsroom