News
Angry WASSCE candidates destroy plantain farm of Assistant Headmaster over 'eagle-eye' invigilation; threaten to amputate him
Some aggrieved final year students of Osei Tutu Senior High School in the Ashanti region has cut down all plantain trees in a farm belonging to their Assistant Headmaster in-charge of Administration, Mr. Francis Adu on Saturday night.
That was not all, the students also left a note behind threatening to "amputate" him next time.
The student took their anger to the school and allegedly stole the batteries of all four buses belonging to the school on the same night.
Mr. Adu's offence is that he has, over the years, been too strict in supervising final year students writing WASSCE exams, an attitude he repeated last Thursday when they wrote the Science paper.
In a video that has gone viral, some teachers of the school were shocked over the destruction of the farm.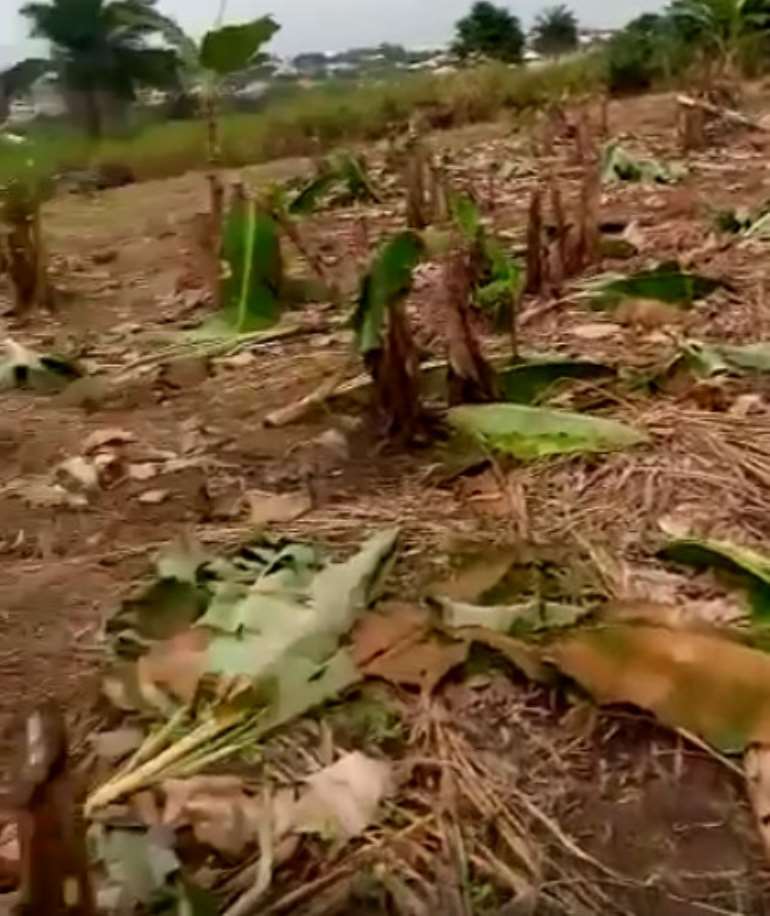 The note the students left behind reads: Mr. Adu, the stupid Administrator. Be careful with the way you deal with students at the examination hall. This is just a warning. We will amputate you if you fuck around.
ModernGhana sources at the school said the Assistant Headmaster has been advised to stay away from his supervision duties for a while to avoid any unthinkable act from the angry students.
The source added that they suspect that the perpetrators may have planned the attack just to "put some fear in the man so he will leave them to do their things in the exam hall."
"I think they planned this act ahead to do it in the initial stages so that he won't disturb them during the exams. But that's where they've mistaken, it will really affect them."
Our source indicated that students used to comport themselves but the indiscipline started creeping in when teachers were stopped from canning, suspending or dismissing rogue and recalcitrant students.
"Now our students don't fear anything because they know that no teacher will cane or can suspend them, at worse we will tell them to weed, and what's weeding to a village boy.
"Can you imagine a student can pull a cutlass on his fellow student and forcefully take his phone from him? A student stands on this compound and smokes weed and takes a picture, what can teachers do to them, thanks to the GES," it told ModernGhana News.
He lamented that, "GES won't say anything because in Ghana's education now, the student is more important than the teacher. If it happens to the student, hell will break loose but because it happened to a teacher they are quiet," it lamented.
Source: ModernGhana