On December 30, 2019, it was announced David Moyes was on the verge of being renamed as West Ham United manager after WHU management grew tired of life under Manuel Pellegrini. WHU were floating just above the relegation zone in 17th.
The return to WHU could have ended if WHU management decided to be trigger-happy again as Moyes secured safety 5 points ahead of the relegation zone.
This 2021 season has been somewhat different. David Moyes has transformed WHU into European football contenders.
The slow start to the season was made up by Moyes with back-to-back victories against Wolves and Leicester City.
David Moyes has made some changes that have got the Hammers amongst favourites to make European football.
In all the managers at the helm since 1994, David Moyes' win % in this second tenure remains the best.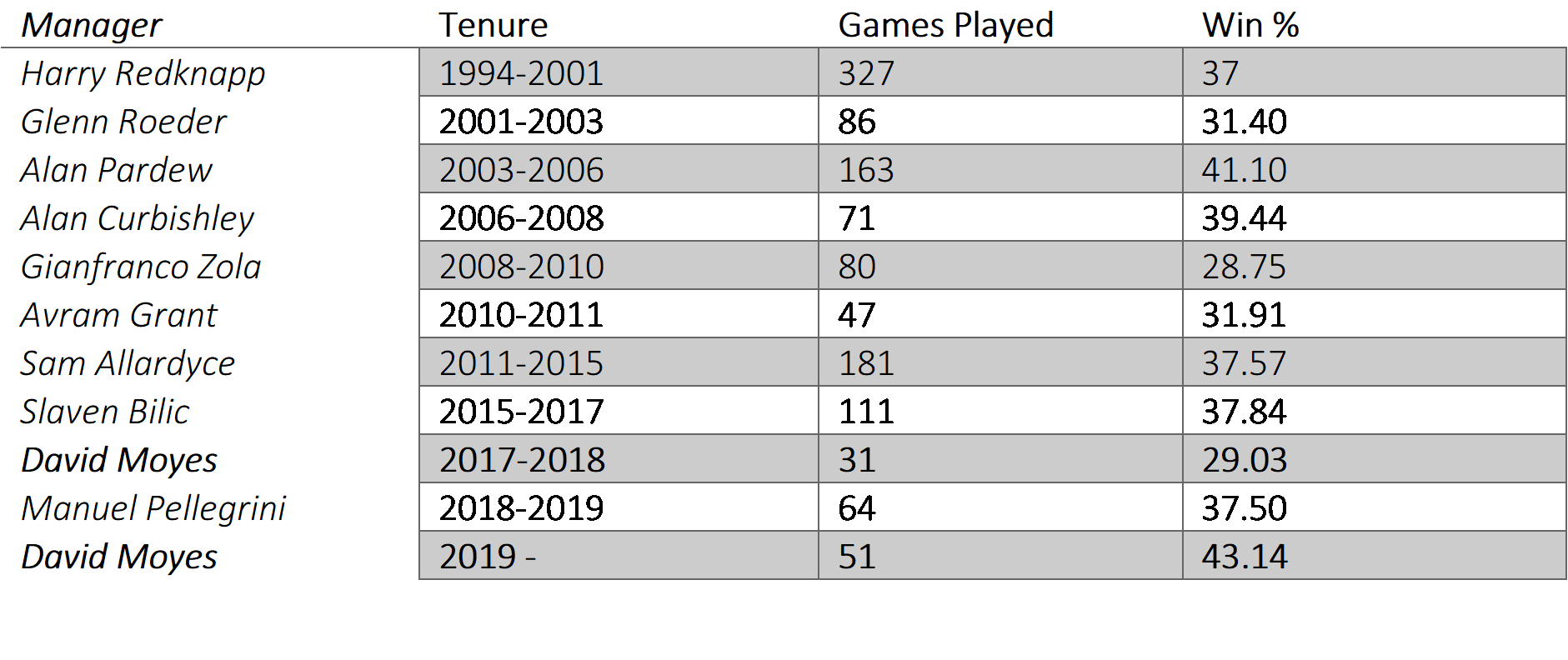 The Scotsman has been able to change the Hammers fortunes through certain changes he has made.
Keeping it simple
David Moyes has shown he has learnt from his turbulent Man Utd, confusing Real Sociedad and unfortunate Sunderland spells.
The exposure to different football cultures and being in the deep end of management has forced Moyes to return to his initial approach to management, SIMPLICITY.
David Moyes failed to live up to expectations at Man Utd, Sociedad, Sunderland and West Ham and hence has approached his tenure with as little complexities as possible.
Moyes has stuck to a standard 4-5-1/4-3-3/3-5-2 most times whilst allowing defenders to focus fully on defending and the midfielder's playmaking.
Solid Defensive Base
Moyes' teams have been seen to be very robust and tend to prioritize defending over anything. This solid defensive base allows the team to freely express themselves in the attacking phase of play.

In 2019/20, from the point of Moyes' appointment till end of the season, WHU were almost as potent going forward and marginally better defensively as he scored 24 and conceded 30 in his 17 matches in charge.
In the 2020/21 season, Moyes has reinforced his backline with PL stalwart, Craig Dawson whilst opting to line up with 3 centre backs at times to offer a firm spine on which they can build their attacks.
As such, they have conceded only 28 and scored more (37) in 24 game weeks.
Understanding Noble's importance
As Mark Noble's legs have begun to wane, Moyes has opted for Declan Rice to be his man in the middle to break up play and start attacks for his WHU.
This change would have expected Mark Noble to be shipped off rather than kept anywhere near the squad.
However, Moyes has shown maturity in drawing from his Man Utd experience, where he was seen to sideline the more experienced Man Utd players (Rio & Vidic) at the time, by ensuring Mark Noble's input is sought after to ensure the best output.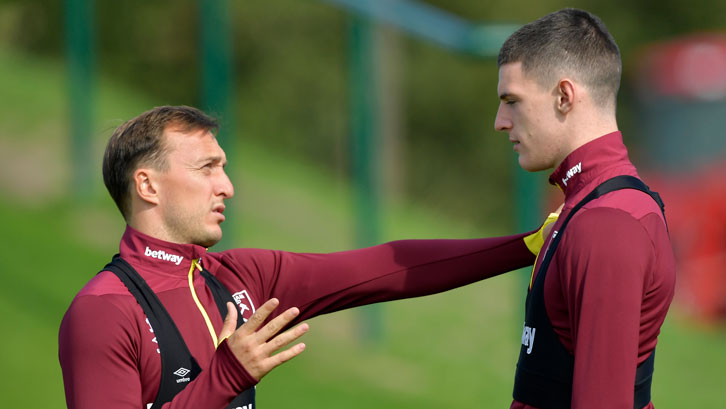 Fixing £81m wrongs in Haller & Anderson
David Moyes has been clear on the way he wants to build a club and has demonstrated that over the past 12 months at WHU with Tomas Soucek, Vladimir Coufal and Craig Dawson's recruitments.
These players embody the Moyes kind of player; their physical presence and intensity.
The £81 million spent on Felipe Anderson (£36m) and Seb Haller (£45m) only gave Moyes an unwanted headache which ultimately harmed the club's finances and approach to the game. Moyes has shown he requires players who are committed, buy into his vision and physically suited for the way he wants to play.
Lingard & Soucek Trump card
Tomas Soucek's arrival is eerily like Marouane Fellaini's for Moyes at Everton. There have been various comparisons between Soucek and Fellaini: from their goalscoring record from midfield, towering height, physical presence for attacking headers and defending headers.
Soucek has been immense in timing his runs late into the box in search of winners for WHU already. Soucek's ability to run throughout matches without showing much fatigue continues to offer WHU an extra dimension in their defensive and attacking phases.
Lingard's immediate two-goal impact on his debut at Villa Park only served as a reminder of Moyes' ability to get the best out of underappreciated players.
This promises to serve as a further trump card for Moyes in his quest for European football. Lingard is performing under no pressure and Moyes will look to make the most of that for under no pressure, Lingard can be a great asset for any team.
Creating Clear Path to First Team
With clubs struggling for funds in this COVID-19 period, having access to young (free) talent is always a bonus. Indeed, WHU is known for its knack for nurturing young talent and have been buoyed by the fact that there is a new generation coming through at the right moment.
The opportunity to create a market for these youngsters whilst potentially bringing the players through their first team.
This 20/21 season has seen Moyes give debuts to Jamal Baptiste, Nathan Trott and Oladapo Afolayan. At a point during the match, 5 academy graduates were on the pitch.
This is unprecedented for WHU as they have been lacking in young talent and offering the few a clear path to the first team.
Moyes has also created a positive environment for the youngsters as he takes more time to watch their progress and try to integrate these youngsters into the first team; something Manuel Pellegrini failed to do.
No Ego, More Antonio
The failed stint at Man Utd has tarnished Moyes' impressive Everton record. Some say the egos in the dressing room and at the board level overshadowed Moyes and ultimately, his inability to keep them in check cost him the role as Man Utd manager.
This time around at WHU, Moyes has ensured he has done away with any player that could have a bit of ego or would be difficult to manage.
Sebastian Haller and Felipe Anderson are the obvious causalities as their languid yet ineffective approach to the way Moyes wanted his team to play cost the team dearly last season.
Moyes has opted for using players like Antonio, Jared Bowen and Pablo Fornals as his firepower as they follow instructions to perfection as well as offer little resistance when advised.
David Moyes has rediscovered his previous form and class as a manager with excellent man-management skills, simple but effective tactical approach, the ultimate bargain hunter and no longer the other Scotsman in the PL but the only one now that there's no Sir Alex Ferguson.
David Moyes has his WHU side playing like true UEFA competition favourites and could make a late surge for Champions League football if they surpass the hurdles of Spurs (H), Man City (A), Leeds (H) and Man Utd (A) in the next few weeks.
Source: citinewsroom