News
Dzodze Ablorme Electoral Area Engages Volta PURC
The Ablorme Electoral Area has hosted the Public Utilities Regulatory Commission (PURC) from Volta/Oti Region as part of their community engagement in Dzodze, the Ketu North Municipal capital.
The engagement according to Hon. Christian Quaku Tornyo, the Assembly member for Ablorme Electoral Area, was occasioned to inform, educate and resolve some curiosities of the electorates concerning the uses of electricity and water in the electoral area.
The team led by the Regional Manager, Mr. Philip Agbezudor explained into detail the effective and efficient consumption of electricity and water by the customers and participants to their advantage.
They also educated the participants on the the necessary steps that need to be taken to extend water/electricity to their various homes to avoid hurdles that are normally encountered in the processes.
Questions and interactive sections were also held by the team to the satisfaction of all participants.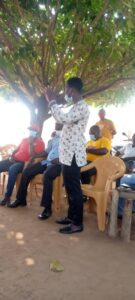 Present at the event were the Ketu North National Commission for Civic Education (NCCE) Director, Mr. Prosper Afealete and the Ketu North Municipal Information Service (ISD) Officer, Mr. Boatsi Dominic who also took turns to educate the participants on their civic rights and responsibilities as enshrined in the 1992 Constitution of Ghana and Covid-19 safety protocols respectively.
Other dignitaries present included Hon. Mac Thompson Gbeti, Hon. Cecilia Tagborlo, Hon. Philomina Ahiable, and some Unit Committee Members from Dzodze Apeyeme, Apetepe , Adagbledu and other adjoining Electoral Areas.
Mr. Tornyo, on behalf of the electoral area, expressed gratitude to the team for the kind gesture extended to the citizens.
However, material including flyers and contact numbers of the Public Utilities Regulatory Commission were given out to participants to enable them access service providers in case of emergencies and other inquiries.
Source: www.voltaonlinegh.com