The National Democratic Congress (NDC) says it has accepted Stephen Atubiga's decision to resign permanently from the party.
In a press release, the party stated that accepting Mr Atubiga's resignation in no way means they are admitting to the allegations he made against the leadership of the party.
"Functional Executive Committee (FEC) accepts your letter of resignation and wishes to thank you for the support and sacrifice rendered to the party in the past," parts of the letter read.
Stephen Atubiga on Friday, May 21, announced that he had taken a decision to resign from the party because of the "vindictive and chameleon nature of some of the National Executives of the NDC."
Among others, he blamed the leadership of the NDC for continuously detaching itself from the concerns and sufferings of the ordinary voter leading to a loss of votes for the party since 2012.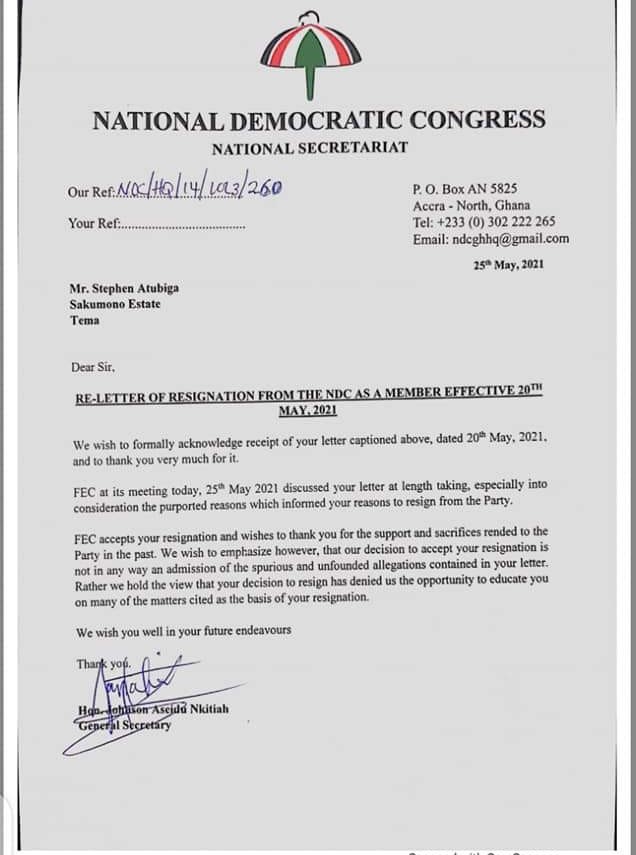 "They no longer respect the rights of their voters to hold them accountable for their glaringly incompetent, compromised, parochial personal interests and lousy leadership both in power and in opposition."
"They are now a dangerous bunch of tyrants viciously refusing to answer legitimate questions in respect of their stinking stewardship culminating in this shameful, painful and avoidable 2020 electoral defeat."
Mr Atubiga resigned two months after he was suspended from the NDC and subsequently hauled before the National Disciplinary Committee on May 21, 2021.
He was accused of making disparaging comments against key party members including the party's election 2020 Campaign Chairman, Professor Joshua Alabi.
The NDC in their letter called the allegations made by Mr Atubiga as the basis of his resignation unfounded and spurious.
"Rather we hold the view that your decision to resign has denied us the opportunity to educate you on many matters cited as the basis of your resignation. We wish you well in your future endeavours," they added. 
Source: Myjoyonline