News
Sheikh Al Maktoum has agreed to refund over $2m for non-supplied doses – Health Ministry
The Ministry of Health says Sheikh Ahmed Dalmook Al Maktoum has agreed to refund $2,470,000 paid by government to supply 300,000 doses of Sputnik Covid-19 vaccines.
This was contained in a letter sighted by JoyNews and signed by Chief Director, Kwabena Boadu Oku-Afari, to the Finance Ministry dated August 9.
The letter was in reference to an earlier one dated August 5, 2021, from Sheikh Al Maktoum to the Ministry of Health.
"The Private Officer of His Highness, per the correspondence, has honourably agreed to refund an amount of $2,470,000 being the balance left on the 50% advance payment of $2,850,000," portions of the Health Ministry's letter to the Finance Ministry read.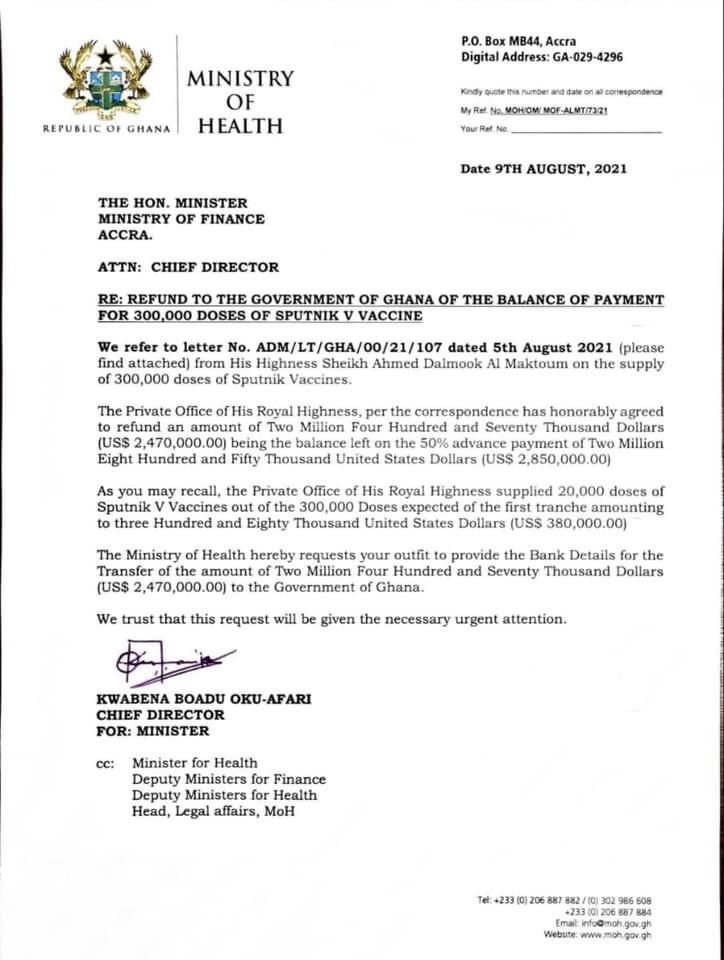 The letter noted that the refund is because Sheikh Al Maktoum delivered only 20,000 Sputnik vaccines out of the expected 300,000 doses.
The recent development comes after Health Minister, Kwaku Agyeman-Manu wrote to Sheikh Al Maktoum to refund the money for the non-supplied doses after the Committee tasked by Parliament to investigate the deal found out that the amount of $2,850,000 (representing 50% of the contract sum of $5,700,000.00) had been paid to Messrs Al Maktoum despite the Minister claiming no payment had been made.
The Health Minister was subsequently tasked to write to Sheikh Al Maktoum and demand a refund.
"By this letter, I also wish to formally request for the refund of the remaining amount for the non-supplied doses, which should be the total amount paid to your office, minus the amount due for the 20,000 doses you already supplied, in line with your earlier e-mail dated July 25, 2021, in which it was affirmed that on April 13, 2021, funds were transferred into your accounts as 50% advance for the initial batch of 300,000 doses," part of Mr Agyeman-Manu's letter read.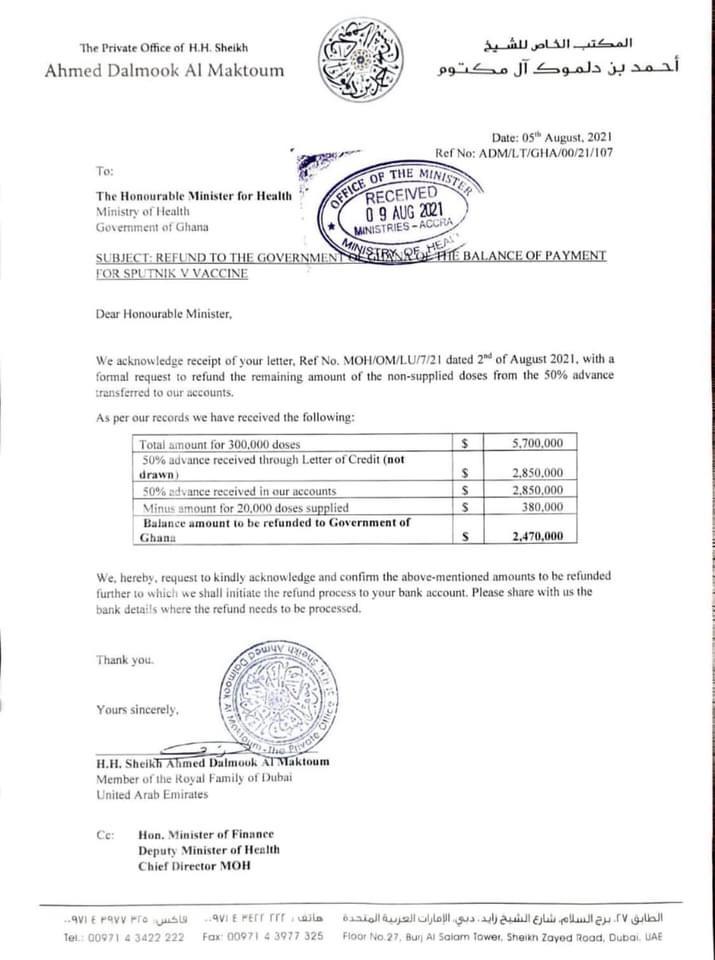 Acknowledging this, Sheikh Al Maktoum, in his reply, confirmed the amount to be refunded, adding that "please share with us the bank details where the refund needs to be processed."https://6e51820bff64819cf90e677e9b63d673.safeframe.googlesyndication.com/safeframe/1-0-38/html/container.html
Because of this, the Ministry of Health has requested that the Finance Ministry provide it with the necessary bank details to transfer the said amount to be refunded.
"We trust that this request will be given the necessary urgent attention," the Ministry added.
Meanwhile, a cross-section of the general public is urging the government to relieve the Health Minister of his duties as reports from the ad-hoc committee revealed that Mr Agyeman-Manu breached the constitutional provisions on prior Parliamentary approval and the Public Procurement Act in his quest to procure vaccines to aid in the fight against Covid-19.
The calls have been championed by the Minority in Parliament, headed by Tamale South MP, Haruna Iddrisu.